This session, unlike many of those in the series as a whole, has the added context that Karuhat had literally just watched me spar with my friend Emma for an hour before his session with me. Admittedly, I could do very little of what Karuhat has been working with me on against her, and I was pretty frustrated as well. The video clip above, and some of his conversation at the end of this session is in the context of this sparring, as well as his observations from my recent fight up in Roi Et, where he was in my corner. One of the problems in that fight was that I just got swallowed up in the clinch by an opponent who was about 7 kg larger than I am, which is obviously a significant obstacle but not an impossible one. In the free clip above, Karuhat instructs me on knee range, how it's just a little outside of clinch range but inside the range that a kicker needs. This is a natural sweet spot for me because opponents cannot easily kick from this distance but my weapon, knees, is super available. I can move in for the clinch, but if my opponent is too big, I can stay right there.
Clinch Throw GIFs
Below are two nice clinch throw attacks (on the outside leg) that Karuhat covers in this episode. The first GIF below is a variation of an unusual throw he's been teaching me throughout this Intensive, mostly for use on the ropes when your opponent's hip is pushed in toward you (which is a good defense against knees). Here he's showing how to set it up in the middle of the ring with left knees, and then a dramatic gallop across their body and outside theleg. Ideally, they are leaning forward or putting their hips in expecting another knee. This throw I've called the Pickpocket, when it's on the ropes, because it is done by walking past the opponent and kind of clipping them, sometimes in a casual in manner.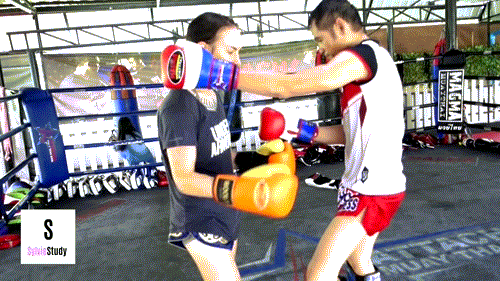 The other clinch throw to the outside comes off of an exaggerated knee, so you score this point and use the landing as a kind of fake, that then becomes a step beyond and behind their leg (below). Both of these throws come from being off-line from your opponent, here favoring your right side, which happens to be where I find myself a lot. These kinds of positions are dangerous for both of you, like you're both in a pretty symmetrical position so nobody is "dominant." You can be thrown and so can they, so the first one to commit with the right set up will be the one who grabs the advantage.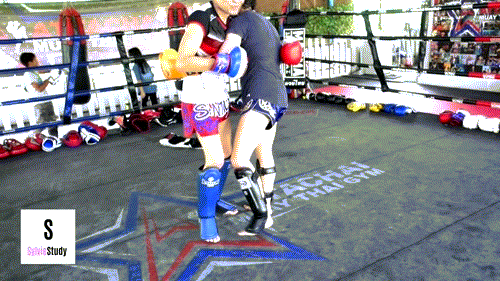 Learn both of these throws by watching the entire sessions, just as Karuhat was teaching them to me.
Episode 20. At top is a free 3 minute extended clip, but you can watch the full 56 minute commentary video of this session on Vimeo On Demand. Purchase of the video or subscription lends support to legends of the ring as Karuhat gets 55% of the net proceeds from this series; patrons get a substantial discount (you can purchase Episode 20 individually after the trailer below, or look to Episode 20 in the full list). You can also subscribe to the entire series, there are now over 25 hours of commentary training footage published: