The video clip above is talking about the Thai concept of "yohm" (ยอม), which means to "submit to" or "allow" something, and how it helps describe the Golden Age style of fighting. Karuhat's style is characterized by "mai yom", not allowing the opponent to turn a move into dominance, not submitting. The idea of "mai yom" does not mean only fighting forward or aggression, but more in the flow of fighting being a conversation, you never allow your opponent to leave you speechless, or to have the last word – you may take a step back but you come back forward, so you're never submitting ground, so to speak. Even if you retreat, or step back, you fill up what has just been vacated. You don't allow yourself to be dominated in a debate, or for the conversation to end because you don't have a "comeback." It's an aspect of Continuity, which I talk about here. This was one of my more productive sessions in the series so far, I was really starting to feel the principle of Continuity. And I think you'll be bale to see how much I was starting to feel continuity if you watch the entire session (you can rent or buy for download individual sessions in the series, 55% of net profits go to Karuhat).
Two GIFS
In this session you find lots of additional techniques shown, and below are two that stand out for me. The first is Karuhat teaching proper stepback on the caught kick. This is part of a larger technique designed to protect a Southpaw's fighter against an Orthodox kick to the open side. In Karuhat's approach, you catch the kick while stepping back, switching stance. This effectively turns your open side into your closed side, demoting the point your opponent might be scoring. You then have an open shot for your own open side kick. In this scenario if you exchange kicks, you out-point your opponent even though two kicks have landed. It's kick for kick, so the open side vs closed side is what determines who dominated the exchange. This little bit of the GIF though deals with the finesse with which you step back once you have switched stances on the catch. I have a tendency to pull my ass back at this point (that's bad), whereas Karuhat is telling me to stand upright and relaxed, and to draw back, and even slightly over, to expose your opponent to a big scoring kick. You can see how slack and relaxed he is, and pulling me into his strike to boot.
closing the openside from Southpay, landing a higher scoring kick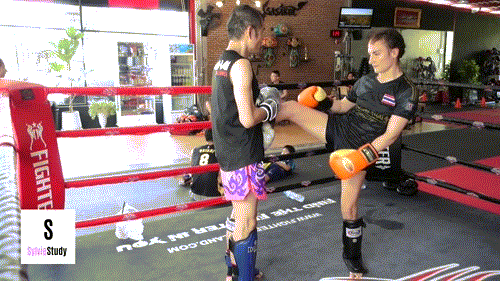 The second technique which stands out is in the GIF below. It's not uncommon that you'll be locked up, with your opponent having something of an overturn in position (me below, you can see how slanted I am, "overturned" with my left arm too far around on my grip so I'm almost sideways into Karuhat's stance). He's showing how you don't want to really struggle against this, so much as follow your outside arm under. The pull away can set this up (hips in), reversing direction. Note how closely he adheres to my body after he passes the arm, able to lock me up at any moment in the turn.
clipping under the overturned lead arm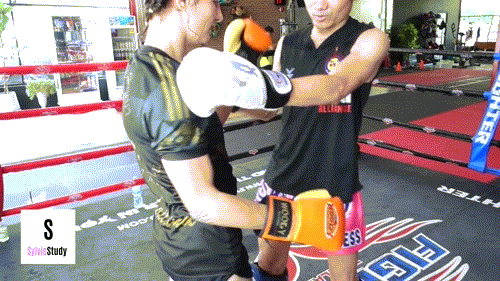 You can subscribe to the entire series.
Episode 21. At top is the free 4 minute selected clip, but you can watch the full 63 minute commentary video of this session on Vimeo On Demand. Purchase of the video or subscription lends support to legends of the ring as Karuhat gets 55% of the net proceeds from this series; patrons get a substantial discount (you can purchase Episode 15 individually after the trailer below, or look to Episode 21 in the full list). You can also subscribe to the entire series, there are now over 27 hours of commentary training footage published: