Time to become a Yodkhunpon Sittraipum, "Elbow Hunter of 100 Stitches" fan, if you aren't already! The Sylvie Study Intensive project, as you know, has thus far been devoted to the 30+ day intensive study of the fighting style of legendary Golden Age fighter Karuhat Sor. Supawan. The idea of the Intensive, and of this website, is to provide deep study of many styles and techniques, as well as offering those study videos on Demand to help funnel money towards the legends themselves. It's an attempt to create a digital home for deep study of Muay Thai, a concentrated online repository for the techniques of legends shown over many days of training (not just single-session), and a contributory income for legendary fighters who often do not have firm financial situations. I've already shot 30+ days with Karuhat, 23 of which have been published, and I've shot 30 days with WBC World Champion Chatchai Sasakul (which will be published in time). Right now I'm currently filming 7 days with Yodkhunpon, the first of which is now published here, and On Demand. You can rent or buy individual sessions like this one, or subscribe to the entire series, and study multiple legends in detail.
This is Day 1 with Yodkhunpon Sittraipum. A little bit of introduction, Yodkhunpon was perhaps the most feared elbow fighter of the Golden Age. His nickname was "The Elbow Hunter of 100 Stitches." He had the rare distinction of holding both the Lumpinee and Rajadamnern 118 lb titles in the same year (1991), and had a fighting style nobody wanted to face. That style comes through in this session and the 7 days with him are meant to show as much depth as possible into that style. It's a constant pressure style, focused on hemming in the opponent until cornered, and then he unleashes his systematic attack of elbows and knees – like a game of Wack A Mole. Kevin and I recorded two "watch with me" fights from his glory years, you can see plainly just how amazing he is. You can get a sense of not only how he was as a fighter, but how I see him:
This first session was already chock full of so many details, I can't even begin to share it all. He's unlocking the keys to his style. You can rent or buy this single hour long session here patrons get a substantial discount (see below). Most of the session is him just getting me more comfortable in the pocket, where knees and elbows can work together. You can see a basic form of that attack from southpaw in the 4 minute clip I provided. A really interesting elbows in the pocket teaching tool he uses can be seen in the GIF below. It's just a constant trading of elbows into the forearms of a partner. Any Muay Thai gym could benefit from this and it teaches several important things. The first is: stay in the pocket. It forces you to just remain where you are under attack, building confidence in your ability to block elbows in a basic guard. The second is to counter attack immediately, learning to strike back. As soon as you feel the elbow on your forearm, you throw back. Third, and maybe most important for his style, is that this is a game of rhythm. If you watch how he does it in the full video, and in sessions that will be published soon, it's a game of "You quit first." Yodkhunpon, in his fights, was able to escalate the tempo of his elbow attacks, and basically overwhelm his opponents. In this drill he does the same thing. You can see this progression in the free video clip.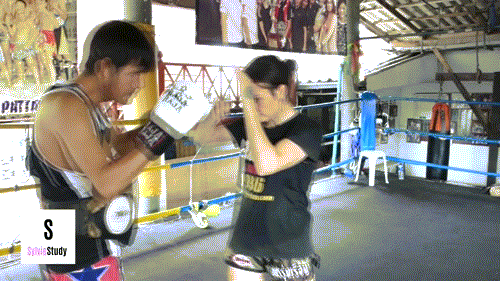 In the GIF below you can see a super important part of his style, his footwork. The Gallop. He's a dern fighter, which means he is constantly coming forward, often chasing kickers across the ring. (He made a joke today about how if a Roi Et – where he's from – dern fighter is going backwards, it's because he's stumbling. Don't back up.) His footwork involves these deep steps as he gallops forward to cut off the ring. In the GIF you can see the small nuances of his rhythm, the way he drags his foot a little, the bit of bounce. This lightness of movement compliments, and contrasts with his crashing attacks.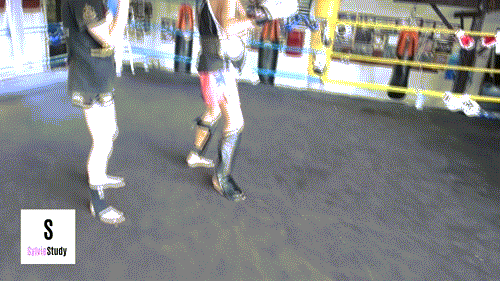 It's very interesting to pair Yodkhunpon with Karuhat because each of them were famed for their elbows. They threw them in very different stylistic ways. Karuhat would time his for dramatic cuts that would win rounds and ultimately fights, Yodkhunpon would overwhelm his opponents with them, paired with knees. Karuhat was a pressure fighter, but he has a kind of wave-like back and forth movement that made him both very difficult to attack, and unpredictable. Yodkhunpon on the other hand has very little backward sway. Everything is right in front of him, in a smothering fashion. The fighter Yodkhunpon might the most be like is Dieselnoi, in that he shares the same stalking, hemming tactics, and then the very violent, escalating tempo attack (with knees, instead of elbows).
This is Sylvie Study Episode 22, you can see it On Demand here. At top is a free 4 minute extended clip, but you can watch the full 64 minute commentary video of this session on Vimeo On Demand. Purchase of the video or subscription lends support to legends of the ring as the krus gets 55% of the net proceeds from this series, distributed; patrons get a substantial discount (you can purchase Episode 22 individually after the trailer below, or look to Episode 22 in the full list). You can also subscribe to the entire series, there are now over 28 hours of commentary training footage published: